Anniversary Issue of Domashny Ochag: «The New Generation Turned out Great – and We Did That»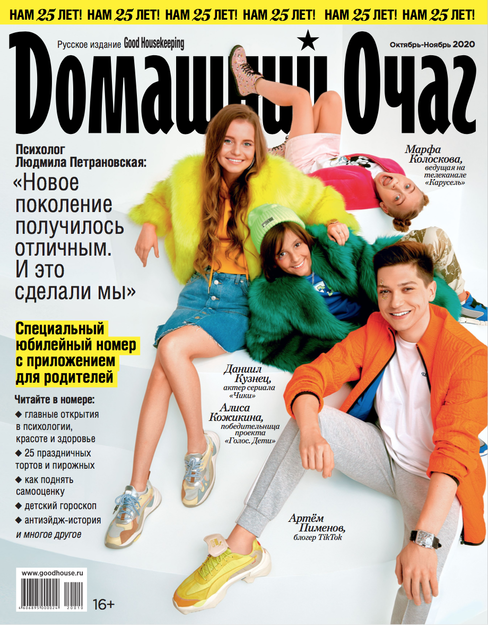 Domashny Ochag has released its new issue with children of the new generation on the cover.
What are the children of the new age like? Smart, bold, talented, interesting, and with a new take on current events and hope for the future. This is whom we've raised these last 25 years!
The cover features Tyoma Pimenov, the Tik-Tok blogger celebrity; Daniil Kuznets, the young and talented actor widely known for his role in the new series Chiki; Alisa Kozhikina, the winning singer of The Voice – Kids project; and Marfa, the young and upbeat TV host on the Carousel channel. In an interview, they shared their views on school, how the younger generation lives now, which difficulties they face, and what they dream about.
Inside, readers will find a psychological supplement in which famed psychologist Lyudmila Petranovskaya explains the children of the new age and how to understand and love them.
Also in this issue:
The main advances in psychology and the beauty and health industry.
25 holiday recipes.
Ways to improve your self-esteem.
A horoscope for children.
The magazine is already on sale.
Independent media in Telegram: all the media news in one place. Join us!