Domashny Ochag in December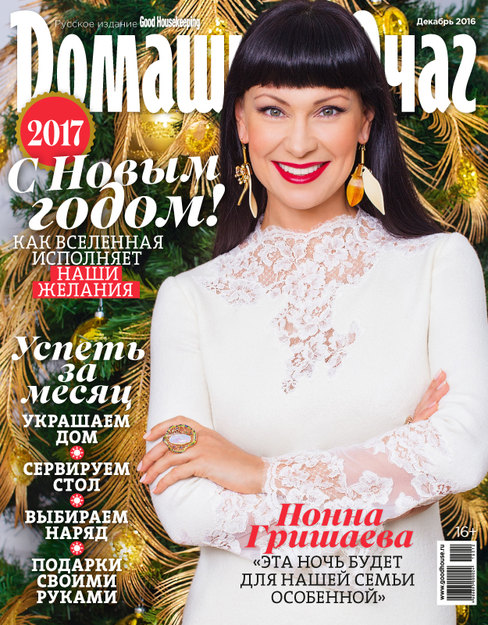 The cover of the December issue of Domashny Ochag magazine features stage, film and television actress, and TV anchor Nonna Grishayeva. In an interview, she shares her impressions about 2016 and her hopes for the coming year.
Readers will find a guide to the right holiday looks, from outfits to makeup and manicures, for home, office and special occasions. The magazine's experts explain how you can get everything done during the holiday commotion and still enjoy the New Year. They also offer ideas for decorating your home and Christmas Tree, explain how to create hand-made gifts and decorations, and offer advice for those who want to avoid putting on weight over the holidays.
And, of course, DO hasn't forgotten the holiday table, with tips and advice on the food, drinks and table layout.
Also in this issue:
Events & People: a December calendar of events – New Year's performances, shows and children's holiday celebrations; Man of the Month – musician Rodion Gazmanov;
Fashion & Beauty: what's new this month – luster and shine, skincare products;
Family & Relationships: winter fairy tales and amazing stories from the magazine's female readers;
Home & Interior: fashion trends, delicious gifts and greeting cards;
Health & Fitness: how the female body is changing;
Recipes & Cooking: intriguing deserts – ginger cookies and magnificent meringue;
Travel: Norway, Estonia and Crimea.
The issue went on sale November 15.