Handmade Culinary Delights from Domashny Ochag and Vkusno i Polezno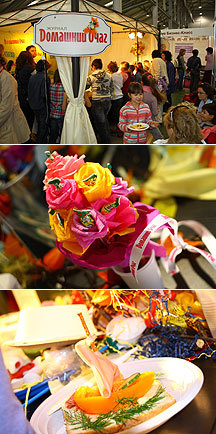 Domashny Ochag and Vkusno i Polezno magazines took part in the Handicraft Formula exhibition held at the Sokolniki Cultural Center on Sept. 27 to 30.
The publications presented their latest issues at the exhibition along with a special project, Handmade Culinary Delights. The magazines' chief editors and contributing chefs conducted a workshop in a relaxed setting. Adults and children learned to make stamps with fruit, amulets for the home, edible table decorations, autumnal napkin rings and long-lasting toys from disposable tableware. Chefs prepared many dishes for the festive event, including beef rolls stuffed with fresh figs, chicken liver pate, a salad of roasted squash with arugula, Italian cutlets of chicken legs stuffed with parmesan cheese, basil, tomato and garlic served with a garnish of caramel apples, apple pies, "village sandals" salad and many other treats.
As always, guests enjoyed the homey and warm-hearted atmosphere at the Domashny Ochag and Vkusno i Polezno booth.