Domashny Ochag at Doll Exhibition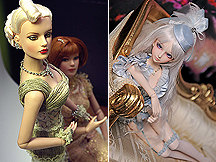 Domashny Ochag magazine served as informational partner to a doll exhibition held in Moscow in early April. The theme of the Moscow Fair 2010 was "The Second Me, or Alter Ego." Visitors to the exhibit were encouraged to search for their own "reflection" in the faces of the dolls and Teddy Bears assembled.
Puppeteers and Teddy Bear makers are creative artists who express their inner world of feelings, emotions and thoughts in their work. All original creations at the international exhibition and fair were presented as embodiments of "our second self." Vivid and memorable, multi-faceted, unpredictable, bold and shy collectible dolls and bears provided visitors with unforgettable emotions. Inexplicable but true – the dolls and bears bore a striking resemblance to their creators. But even more surprising was their similarity to collectors, and even visitors.
During the exhibition, Domashny Ochag magazine introduced its current project – the Domashny Ochag Institute. Also, exhibition visitors could purchase the magazine in its new mini-format.