Domashny Ochag Presents "Domestic Happiness" Lottery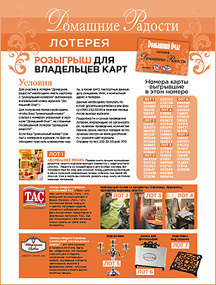 Domashny Ochag magazine presents the "Domestic Happiness" lottery, which will begin with the April issue and continue until the end of 2009.
Anyone wanting to participate in the "Domestic Happiness" lottery will need a special card that can be found in the April edition of Domashny Ochag. To win, your card number should match the number shown in the magazine on the page dedicated to the lottery. If you have a match, you will need to send a copy of your card as well as your name, passport information, date of birth, Individual Identification Number (INN), mailing address and telephone.
Partners of the project are the TAS, which sells textiles, and The Interior Shop, a company that helps customers create a comfortable atmosphere at home.
These partners will give away a variety of prizes for the contest every month. The Home Menu book published jointly by Domashny Ochag and Exmo Publishers will also be given away.