Swings Painted by the Stars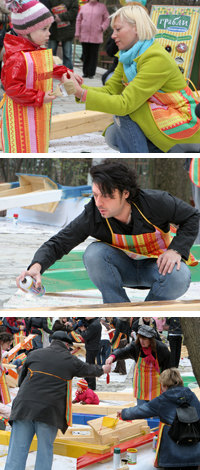 On April 21, a family event took sponsored by Domashny Ochag magazine took place at Sokolniki Park.

During the event, stars of television, music and theater painted swing sets which are now standing in the park and being used by children. Each swing has a plaque bearing the name of the celebrity who worked on it, for example - "Domashny Ochag and TV host Avrora - to the kids."

During the course of the event, participants had the opportunuty to clean the park's territory and then enjoy an entertainment program and tea with bagels from the Grabli restaurant.

The event went smoothly - even inclement whether did not stop people from showing up and working.