Harper's Bazaar in July: Nothing Extra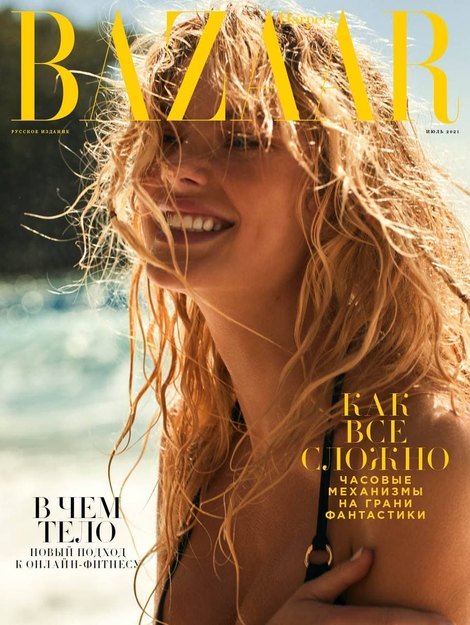 The July issue of Harper's Bazaar will help you reconsider your attitude towards your body. «I am writing this letter on May 31, – said Editor-in-Chief Dasha Veledeeva, –and it seems that, for the first time in my whole life, I don't have a hysterical desire to 'get in shape by summer.' Somehow, I decided to let summer get itself in shape for me. The quarantine last spring gave me plenty of time to get to know myself better — and to finally give myself a break. I no longer think about doubling down and spending, say, another month on juice detox to be able to fit into micro shorts. Honestly, I don't even like micro shorts and dinky bras. I don't want to compare myself and my figure to someone's expectations – not even my own. My body did a great job: it didn't let me down during the pandemic. For that alone, I am extremely grateful to it, and this summer I plan to dress it up in everything airy, breezy, soft, white and colorful (although I'm not talking to black at the moment). For the first time, the body that nature has given me is the one I most love, simply because it is mine and because I won't get any other».
A digital cover was released as a supplement to the print version.
Also in this issue:
Learn how to undress fashionably in the heat.
In the What I Can Do column, online marathons by Ursula Kim and Alina Shpak.
Lidia Ageeva on the Paris exhibition of Azzedine Alaia and Peter Lindbergh.
Yula Peresild and Andrey Burkovsky on spaceflight and friendship between a man and a woman.
The issue is already on sale.
Independent Media in Telegram: all the media news in one place. Join us!