Esquire Weekend in Moscow: How it Was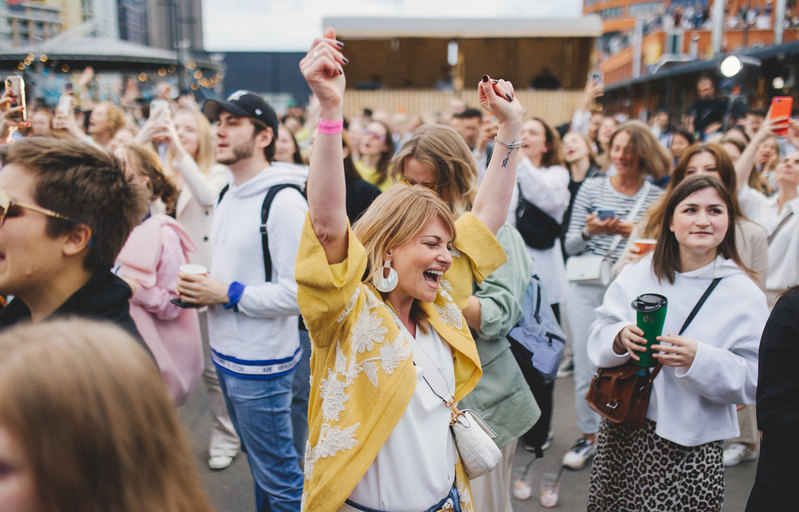 The fourth Esquire Weekend was held on June 5 at the Khlebozavod (Bread Factory) in Moscow. The festival gathered 7,500 guests.
Music at the Esquire Weekend was provided by Mika Vino, Zoloto, Sirotkin, Vladimir Presnyakov, Diana Arbenina, the Nochnye Snaipery (Night Snipers) and Ivanushki International.
Tinkoff Bank provided support for the discussion platform of the festival, moderated by Esquire Editor-in-Chief Sergey Minaev. The platform traditionally brings together the best and trendiest speakers.
The first guest of the Esquire and Tinkoff partner zone was calligrapher Pokras Lampras, who spoke about trends in contemporary art and why everyone is suddenly obsessed with NFT. Immediately after the discussion, the artist custom-painted T-shirts from the exclusive Esquire Weekend merchandise collection. The items could only be purchased at the festival.
Film critic Zinaida Pronchenko spoke next. Hundreds of people came to the public talk with Alexey Pivovarov, creator of the Redaktsii (Editorial Office) to learn everything about the internal workings of the program and how to make high-quality content on YouTube. The leading figures of the Esquire Stand Up digital project, Nurlan Saburov and Yevgeny Chebatkov, presented select material and then spoke with the chief editor and answered questions from the audience.
The On Air zone took the form of an evening show with live performances and public talks.
Actors Denis Vlasenko and Lena Tronina, along with director Sangadzhiev and artist Feduk appeared at the Boiler Room venue.
In the Rive Gauche zone, guests could sample the Jusbox Perfumes collection. Esquire Weekend attendees were also the first to check out the Mercedes-Benz C-Class automobile before it officially went on sale. In the Lacoste brand zone, the festival's most active guests could compete in table tennis. At the Lamonda zone, every visitor could have a consultation with one of the brand's stylists and assemble a striking personal image, the items for which they could order on the spot at a special discount.