Esquire in October: On-the-Scene Reports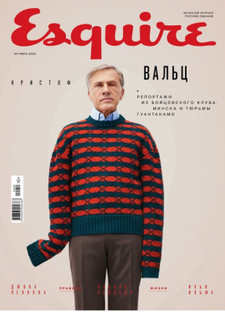 Actor Christoph Waltz, who appears on the cover of the October issue of Esquire, manages not only to play the most charming villains in modern cinema, but also to capture the gist of the times in which we live. «There is only one guarantee in life, – the says in the cover story of the new issue, – it can always get worse». Nevertheless, the editors feel this is no reason to throw in the towel. In this issue, read about people who:
take part in a battle for subscribers and one million rubles in the center of Moscow;
spend a decade and a half trying to defeat the bureaucratic machine in an attempt to leave Guantanamo Bay;
find themselves in the center of the protests in Minsk.
Also in this issue:
The story of Ronan Farrow — the man who exposed Harvey Weinstein and then faced accusations of falsifying his facts.
The rules of life according to Ilya Ilf, John Lennon and Oscar Wilde.
A list of entertaining books and films, on the chance we return to quarantine.
The magazine is already on sale.
Independent media in Telegram: all the media news in one place. Join us!