Read Cosmopolitan in VK using a Special App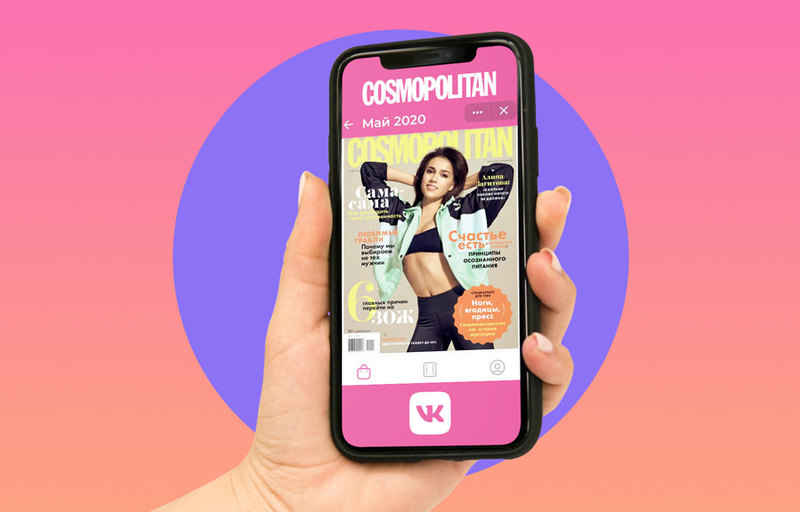 In a first for Russian media, Cosmopolitan teamed up with the VKontakte social network to launch a mini-app for reading magazines directly in VK. Free access to the May and April issues is already available.
The size and level of activity of the audience for VK Mini Apps has grown significantly during the lockdown, with the number of daily users swelling by more than 260%. The monthly audience for VK Mini Apps hit a record high of more than 36 million users in April.
To read the magazine, use your smartphone to open the Cosmopolitan mini-app found in the VK Mini Apps platform on VKontakte. No download is required. Users can bookmark content, share it with friends, and view additional material such as videos. The service works in the VK mobile app for Android and iOS, as well as in the mobile version of VKontakte.
«We're glad that VKontakte mini-apps has helped Cosmopolitan take a step closer to its readers, who can now leaf through the latest issue of their favorite magazine without leaving their home, – said VKontakte Partnerships Head Ekaterina Yakusheva. – In the past, glossies could only accomplish this by creating separate apps that readers had trouble finding, had to be downloaded, and that took up space on people's phones. Thanks to the VK mini-apps, all those problems have become a thing of the past, and the bonus will be a huge opportunity to promote the service and interact with readers and their friends».
«With forced social isolation, people's daily schedules and habits have shifted, – said Cosmopolitan group of publications Publisher Maria Kolmakova. – Their consumption of information and entertainment content has changed. Convenience, speed and user-friendliness have taken precedence. Our collaboration with the VK social network in creating the Cosmopolitan mini-app has made it faster and more convenient than ever to gain access to your favorite magazine – and eliminated the hassle of downloading. Now our magazine will be with our readers whenever they want to plunge into the world of Cosmopolitan».
«For Cosmopolitan, the launch of the VK app is a continuation of the digital transformation of the business, – said Independent Media Publishing House Director of Development Tatiana Malysheva. – We would like the brand's audience to be able to read the magazine in whichever format they find most convenient. This is why we enthusiastically supported VKontakte's initiative to launch an app that would be available not only to Cosmopolitan subscribers in VK, but also to the social network's entire audience».
Stay home – and stay with us!