Harper's Bazaar and Estée Lauder Held Joint Brunch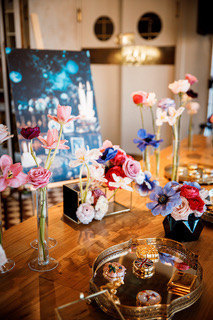 On February 25, Estée Lauder and Harper's Bazaar held a brunch at the Buro TSUM restaurant to mark the opening of the Beauty in Miniature exhibition dedicated to the legendary Estée Lauder fragrance pen and compact powder. The exposition appears in the brand's corner at the TSUM through March 8.
The history of beauty miniatures began in 1963, when Estée Lauder presented her first collection of compact powders as art objects. Ever since, the brand has released new masterpieces every year that have been sought after by collectors and beauty-lovers the world over.
Inspired by this appealing tradition, artist Katya Mi created a series of photographs for the exhibition that depict historical examples of compact powders and perfumes.
Harper's Bazaar Beauty Director Yulia Kudryavtseva spoke about the idea and story of creating miniature powders and fragrance pens, as well as her long-standing friendship with the Lauder family. Her personal collection — shown at the event for the first time ever — includes 30 unique handmade miniatures.
Guests at the brunch included Svetlana Bondarchuk, Snezhana Georgieva, Alena Akhmadulina, Elena Zakharova, Ekaterina Odintsova, Sati Kazanova, Alisa and Yulia Ruban, Ksenia Sukhinova, Olga Panchenko, Zara and many other fans of the brand.
The exhibits currently on display in Moscow were grouped according to specific topics especially for exhibits in various countries. They are stored in the central archive of the Estée Lauder Corporation in New York.
The Shakirova Studio created the décor for the event.