Esquire Weekend to be Held in Moscow and St. Petersburg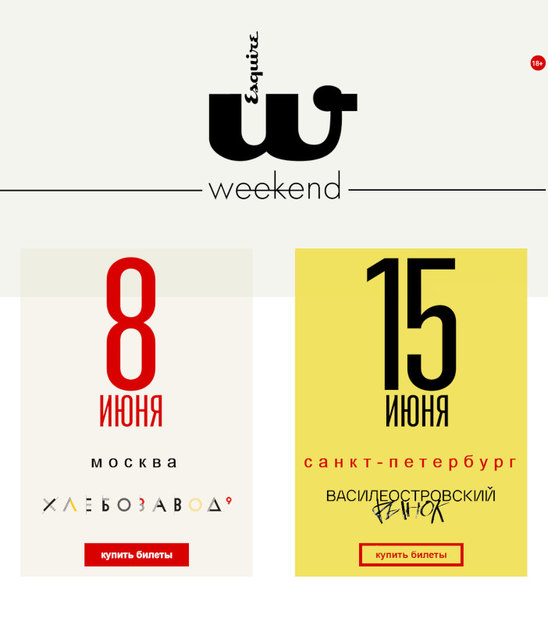 Esquire magazine will host its third Esquire Weekend festival, and this year it will hold the event not only in Moscow, but also in St. Petersburg.
Esquire Weekend is an interactive media festival. Each zone of the event corresponds to one of the magazine's columns and provides guests with an idea of how the modern music, cinema, theater, literature, politics, technology, automobile, clothing and gastronomy industries are developing.
In Moscow, Esquire Weekend will be held on June 8 in the Khlebozavod (Bread factory) city space. In St. Petersburg, it will take place on June 15 at the Vasileostrovsky Market.
The focal center of the festival will be a music stage on which popular Russian acts will perform during the day. Rap artist Big Baby Tape will headline the Esquire Weekend in Moscow. Guests will also be treated to the premiere of the Yaav musical project in which singer Elizaveta Astakhova, a.k.a. Yolka, appears in a new role. The Loud trio of Ufa will appear at the event in St. Petersburg.
In the Dialogue zone, Esquire Editor-in-Chief Sergey Minaev will invite famous people, friends of the magazine and public figures whom everyone is talking about to engage in frank discussions. This year's guests include Nikolay Kartozia, Pyatnitsa (Friday) TV channel creator, producer and CEO; Ilya Shabelnikov (a.k.a. Satyr), actor and author of the eponymous YouTube channel; Alexander Petrov, an actor who seems to have played in every hit Russian film and high-profile TV series in recent years; Irina Shikhman, former TV reporter and current host and creator of the Can We Talk? YouTube show; and Sergey Burunov, stage, film and voice actor.
The Dialogue program in St. Petersburg will include the participation of rave group Little Big lead singer Ilya Prusikin, writer and commentator Vasya Akkerman and chef and restaurateur Aram Mnatsakanov.
The festival will have a new zone in 2019, Esquire On Air. This is an open creative studio bringing together young talents from the creative, communications and entertainment fields: micro-bloggers, musicians, actors, filmmakers, journalists and writers. Any festival guest will be able to participate in this show, which will be broadcast live.
The Wardrobe zone will feature an exhibition of consumerism items and talk about conscious consumption. The Masterpiece zone is for those interested in modern art and who strive to develop their taste. The Hunger and Bar food court is organized jointly with the SysoevFM project.
Learn more about the event and buy tickets on the website weekend.esquire.ru.