Collezioni in December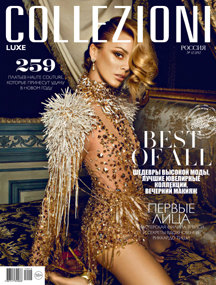 The December issue of Collezioni Luxe is devoted to the best Haute Couture collections.
In this issue:
Reports from the creative workshops of legendary designers. Victoire de Castellane and Philip Treacy share their sources of inspiration and the things that surround them every day.
The most unusual stage costumes for stars created by Frida Giannini and other famous designers.
An interview with Riccardo Tisci: The talented designer talks about his childhood, his family and what inspired him in creating the Haute Couture collection for Givenshy.
An interview with Giovanni Bianchi: The La Perla brand designer talks about his latest collection. He is certain that creating perfect clothes requires more than just studying women's anatomy: Even more important is understanding their secret dreams and desires.
Also in this issue — masterpieces of high fashion, the best jewelry collections, the most amazing shots from High Fashion Weeks in Paris and Rome and the best Christmas and New Year's gifts.
The issue goes on sale Nov. 27.