Wedding Supported Runaway Brides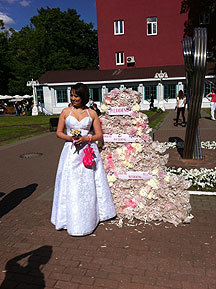 Wedding magazine took part in the Cosmopolitan Runaway Brides event held in the Hermitage garden in Moscow on May 26.
Florists created a special wedding cake made from flowers mounted on a rigid frame especially for Wedding magazine. People wanting to have their pictures taken next to the cake continued to line up for their chance all evening. In addition to the photo shoot, each guest had a chance to receive a 10 percent discount to attend the Wedding School. The invitations were quickly snatched up by young ladies wanting to make thorough preparations for this important event in their lives.
The Cosmopolitan Runaway Brides event has already been held eight times. The event was attended by approximately 10,000 people.