Mamas&Papas: "Let's Go!"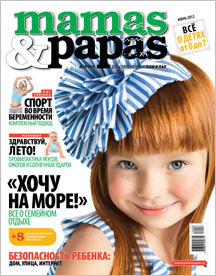 The June issue of Mamas&Papas features a story on traveling with your child. Because the success of the trip depends entirely on whether the parents have the proper frame of mind, the magazine offers useful tips for moms and dads that will help make the undertaking a success.
Also in this issue:
Novice users: kids and gadgets;
Without fear or blame: your child's safety at home, on the street and browsing the Internet;
Expertise: testing kitchen utensil sets for pint-sized chefs;
Wet nights: juvenile bedwetting: what causes the problem and can it be overcome?
Give me your paw, friend: how to interact with animals safely;
Travel Diary: interesting stories of traveling with children;
In seven days: methods for organizing "home schooling";
Battle of the Titans: conflicts with other parents;
Sports conditioning: exercises for pregnant women;
Baby fitness: a set of exercises you can do with your baby.
A free "Alphabet" CD insert is included in every copy. You can find the June issue of Mamas&Papas in newspaper and magazine stands starting May 15.