Surprising Publication from Custom Publishing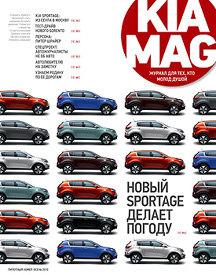 The Custom Publishing department of Independent Media Sanoma Magazines has released the first issue of Kia Mag for Kia Motors. The flashy, dynamic and modern lifestyle magazine is intended for everyone who shares the values of the brand: young in spirit, desiring progress, hungry for new things, and able to anticipate expectations and earn trust.
The first issue introduces readers to new Kia models, profiles chief designer Peter Schreyer, maps out the best driving routes in Russia and reveals what has surprised Russia's best automotive journalists this year.