Vedomosti: Hunt for Siren Lights Continues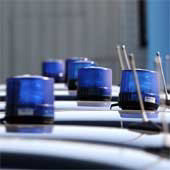 On January 25, radio station Serebryany Dozhd joined the Vedomosti "Hunt for Siren Lights" campaign. Now listeners can hear reports from "Siren Light Hunters" on the Solovinye Treli program that runs on Serebryany Dozhd from 8 A.M. until 11 A.M. every Tuesday, Wednesday and Thursday.
The Vedomosti and Serebryany Dozhd web sites constantly update their information regarding the number of siren lights found by Vedomosti readers and Serebryany Dozhd listeners. The radio station's collection of photographs already numbered 126 as of January 28.
The goal of the campaign is to attract attention to the problem of illegally placed siren lights on cars in Moscow. According to presidential decree, only 1,000 unmarked automobiles in Moscow are permitted to have such lights, but it seems that the actual number is much higher. Once it collects its material, Vedomosti will officially inform the corresponding government agencies, and will conduct its own investigation into who is using these siren lights and on which vehicles they are placed.