Vedomosti Named Best Corporate Charitable Benefactors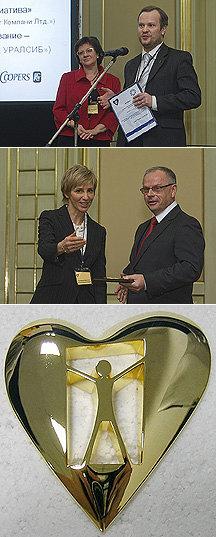 The Vedomosti business newspaper announced the results of its second annual survey of corporate charities. The awards ceremony for the most effective corporate charitable benefactors of 2008 was held on November 26.
The winners were:
Transaero Airlines – 1st place;
URALSIB Bank – 2nd place;
Sakhalin Energy Investment Company, Ltd. – 3rd place.
The methodology for reviewing charitable activities was developed especially for Vedomosti by the PricewaterhouseCoopers auditing and consulting firm with support from the Donors Forum grant-issuing organization. The first stage measures the financial support the company provides for charity, and the second stage evaluates the quality of the charitable programs themselves.
The goals of analyzing "corporate charity in Russia" are to convey information to the public on the actual sums that Russian companies spend on charity and promote increased discussion of the effectiveness of the monies spent on charitable projects.
Forty companies took part in the 2008 survey. Among them were leading representatives of Russian business such as Lukoil, Russian Standard, Severstal, URALSIB, Sistema and Russian representatives of foreign companies such as Mercedes-Benz Rus, Raiffeisen Bank, Intel, Dirol Cadbury and Unimilk.
On November 30, Vedomosti newspaper released an insert titled "Charity" that included the results of the ranking and a review of corporate charity in Russia and abroad.
The rankings can be found on the Internet at www.vedomosti.ru/rankings2008.