Yes!-Stars at Comedy Club Festival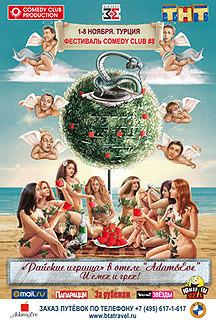 For the second season in a row, Yes!-Stars magazine is acting as informational partner to the Comedy Club festival. This festival – the eighth so far – will be held in Turkey from November 1 to 8 at the Adam & Eve hotel.
As usual, the main event of the festival is the team competition. Participants faced a hellishly brutal task – to get into paradise, they have to pass though seven rounds of the festival. Festival guests are being treated to all manner of enticements: dazzling evening concerts, daily pre-parties, rousing sets by DJ Grad, DJ Kirilloff and DJ Rust at thrillingly and imaginatively themed discotheques.
Stars of the Russian screen and members of the business and political elite – stepping right off the front page of the society column – succumb with pleasure every time to the temptation of attending the festival. This gathering has been no exception: on hand are divas of high society and television stars.
As part of its informational partnership, the Yes!-Stars logo was included on all printed advertising materials for the festival – on broadsheets and fly-cards in clubs and retail centers, on advertising layouts in magazines partnering the event, on the Mail.ru Internet banner, on the Comedy Club official site and on the V kontakte web site. A banner advertising the magazine was also placed on the premises of the hotel where the event was staged.