New for Summer on Fotoimedia Site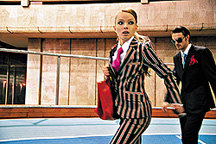 Spring and summer – a time for rapid renewal. Not to be left out of that process, the Fotoimedia photo agency is developing quickly.
The photobank has grown by several thousand images in the past month. Among them – new photographer's shots of:
Beautiful women;
Original illustrations;
Fresh summer kitchens for any taste;
Enchantingly beautiful travel shots.
As always, an excellent celebrity assemblage:
A magnificent fashion shoot from Collezioni magazine, this time with men taking center stage in the photo session.
Production shoots of glamorous women: Sati Kazanova, Lera Kozlova, Yekaterina Guseva and Maria Mashkova.
Super fresh production shoots of the leads from the film "First Love" – Yulia Savicheva and Dmitry Burukin.
Photographers were at home with Dima Bikbayev, the soloist from the group BiS, and stopped in for a visit to Batisht, of the group Band'eros.
Pleasant shots of the couple Ivan Urgant and Olga Busova, along with Roman Tretyakov and many other no less famous personages.
Long-awaited photos from the Vedomosti newspaper conferences have also been added to the site. Now on the www.fotoimedia.ru site you can find the portraits of current figures from the world of Russian politics and economics, as well as other public figures of our country. These include key individuals from the media business, logistics, energy, prominent lawyers and business people.
The enormous photo archives of the Vedomosti newspaper and SmartMoney magazine are accessible by request. Photographs from The Moscow Times newspaper are directly accessible by searching the www.fotoimedia.ru site.