Cosmopolitan in December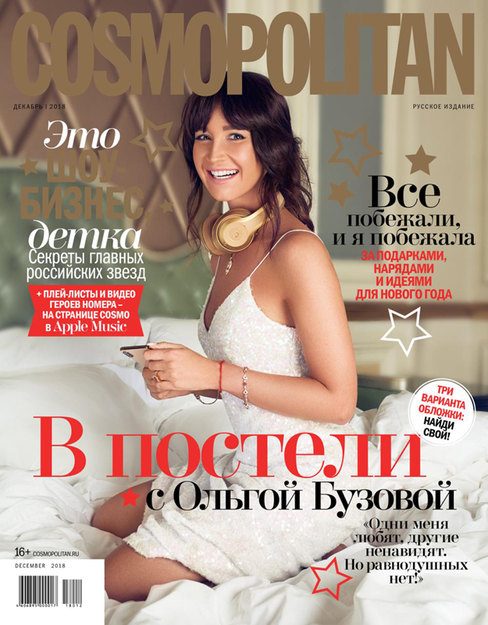 For its December release, Cosmopolitan teamed up with Apple Music to create an issue devoted to music and show business.

Readers will find QR codes with playlists of the coolest Russian musicians of the year. The main star of the issue is TV host and singer Olga Buzova who appears with three different looks on three different covers of the magazine.

In the musical part of the issue, readers will find the following:
what Russian musicians listen to – Feduk, Yulianna Karaulova, Antokha MC, the Vremya i Steklo group, Nazima i Terry, Klava Koka, the Pizza group, ST, Kristina Kosheleva, Khabib, the Khleb group and Elvira T., Yulia Parshuta, Andrey Zakharov, and others.
how Ivan Dorn kicks back and relaxes;
how Max Barskikh was shy about meeting girls as a child;
how concert-goers dress;
why Levan Gorozia ended his L'One project and what he'll do next;
the secrets of music industry producer Natella Krapivina;
Usadba Jazz founder Maria Semushkina, Universal Music head Arina Dmitrieva, and Egor Kreed's video clip-maker Katya Yak;
How and where to meet famous musicians in Moscow.

Also in this issue:
exclusive interviews with foreign celebrities Benedict Cumberbatch, Amber Heard, Paris Hilton, and Gordon Ramsey;
how to hint at sex if you're too shy to tell the guy directly;
how to turn a blind date from a torture test into a fun time;
how to overcome the effects of the New Year's feast;
how to survive the office party.

The issue is already on sale.