Harper's Bazaar Partners Golden Mask Festival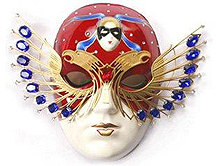 As in previous years, Harper's Bazaar magazine is again serving as a media partner to the Russian National Theatre Golden Mask Award and Festival.
The main part of the 21st Golden Mask Festival takes place in Moscow from February through April. The culmination of the festival is the Golden Mask awards ceremony on April 19.
As a media partner, the Harper's Bazaar logo appears on all the festival's print and advertising products, and on its website. The publication's advertising layouts will also be on display in the lobbies of participating theaters.
The Golden Mask is an annual theater festival in Moscow that showcases the most outstanding theater productions from across Russia. The Golden Mask National Theatre Award is the most prestigious honor in Russian theater.