Harper's Bazaar in February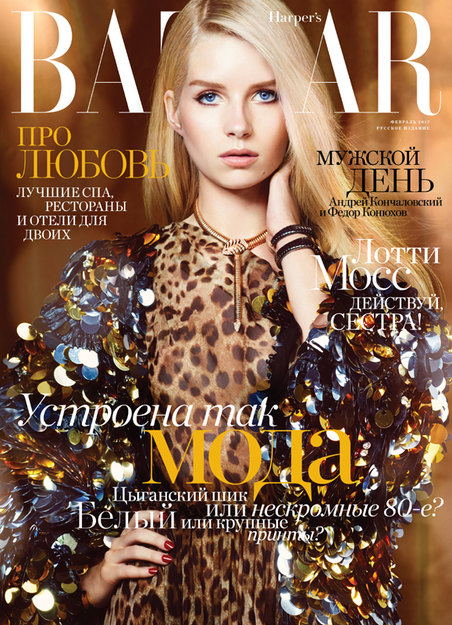 Model Lottie Moss appears on the cover of the February issue of Harper's Bazaar magazine.
In this issue:
Trends – Gypsy chic, plaid school uniforms, and other spring items.
Alex Scissorhands – The curios and antics of the legendary Harper's Bazaar art director who defined the look of modern glossies.
Heaven is Other People – Andrei Konchalovsky and Yulia Vysotskaya on the movie that is a contender for an Oscar;
Actually – Stacy Marine through the eyes of Carine Roitfeld.
Act, sister! – Show and tell with Lottie Moss;
Aidan on the Street! – The most famous Russian artist as fur designer.
No Harm in Dreaming – A Harper's Bazaar photo shoot captures 50 shades of pink.
Sounds Good – Sound art from around the world in the project "The Geometry of Now."
Picture of the World – Fedor Koniukhov on fear, world records, and risk.
Details – The best looks from last year's red carpet.
Flash! The hottest parties according to Harper's Bazaar.
The magazine went on sale January 24.