Cosmopolitan Experiment: Fall in Love in 240 Seconds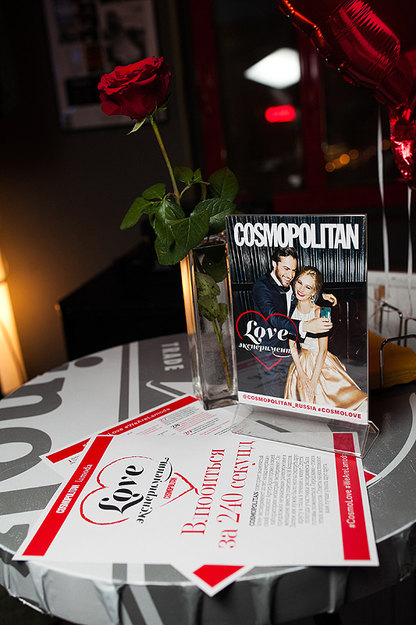 On the eve of Valentine's Day, Cosmopolitan magazine repeated an experiment first held 20 years ago by U.S. sociologist Arthur Aron. He created a list of 36 questions for couples to discuss while staring into each other's eyes for 240 seconds – so that they would immediately fall in love.
Participants in the Bachelors project served as subjects for this experiment. The February issue of Cosmopolitan carried the profiles of 30 young and promising bachelors looking to get into serious relationships, and female readers had three weeks from the issue's release date to use the special digital Cosmo service to get acquainted with them and choose a partner for the event on February 13.
Before the big rendezvous, the young women came together for a bachelorette party in the new Wella World Studio. Stylists from the Lamoda online clothing and footwear store gave each participant a makeover with clothing from London-based label Lost Ink. Max Factor's Andrei Arbuzov led a team if makeup artists while Wella professionals created the ladies' hairstyles. The Prime health food chain served delicious and healthy refreshments and the BeCreate workshop decorated the venue with balloons.
Following the bachelorette party, the ladies headed to the Time Out Bar, where the bachelors were waiting for them. The couples enjoyed complete freedom in using the questionnaire: some painstakingly discussed each point while others departed from the text to discuss their childhood, the weather and vicissitudes of life.
Not everyone found life partners that evening, but all of the participants said they found the experiment interesting. The evening continued with the Tinder Find Your Match party.