Esquire Hosts Literary Breakfasts at Coffeemania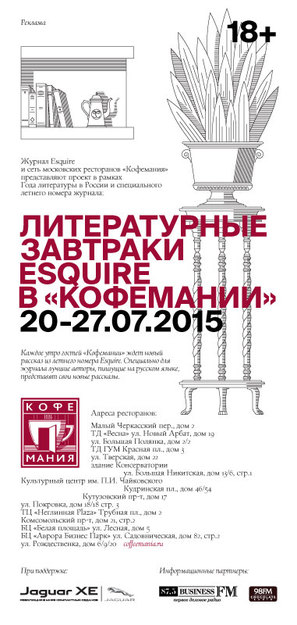 Esquire will release a special literary issue in August in honor of Russia's Year of Literature. The magazine famous for publishing stories by the world's most interesting authors will acquaint readers with the best Russian writers in issue that will be released as an almanac of previously unpublished stories to sit alongside other works of literature on your bookshelf.
In support of the summer issue, Esquire has teamed up with the Coffeemania restaurant chain for special "Literary Breakfasts."
From July 20 to 27 – one week before the release of the magazine – breakfast patrons at all Coffeemania restaurants in Moscow will also receive an exclusive booklet containing a new story from the August issue of Esquire. Each story will be formatted according to the restaurant's design motif and will announce upcoming stories as well as the special issue as a whole.
Esquire will bring its business partners together on August 3 for a Literary Breakfast at the Grand Coffeemania restaurant for a presentation of the special literary issue. The partners will also have a chance meet the authors, who will read their stories, sign autographs and chat with participants.