Cosmopolitan Desserts in Red Mango Café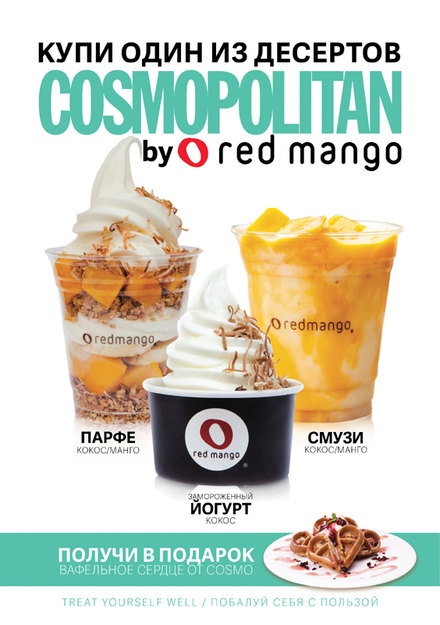 Cosmopolitan magazine and the Red Mango chain of premium frozen yogurt cafés presents three new Cosmo desserts: natural coconut yogurt, parfaits and mango-coconut smoothies.
Coconut yogurt is made with coconut milk and without sugary syrups or preservatives. It goes perfectly with coconut flakes, fresh fruit and the rich "bubbles" topping. Coconut yogurt is the basic ingredient in the mango-coconut parfait, along with ripe mango and honey-baked bio-granola. The parfait makes an excellent breakfast or snack. Anyone who loves thick and rich drinks will surely enjoy the refreshing mango-coconut smoothie.
Every customer ordering one of the special spring desserts will receive a complimentary heart-shaped wafer from Cosmo.
The promotion will run through June 17 at Red Mango cafés on Nikolskaya Ulitsa and in the Modny Sezon shopping center.