Cosmopolitan in November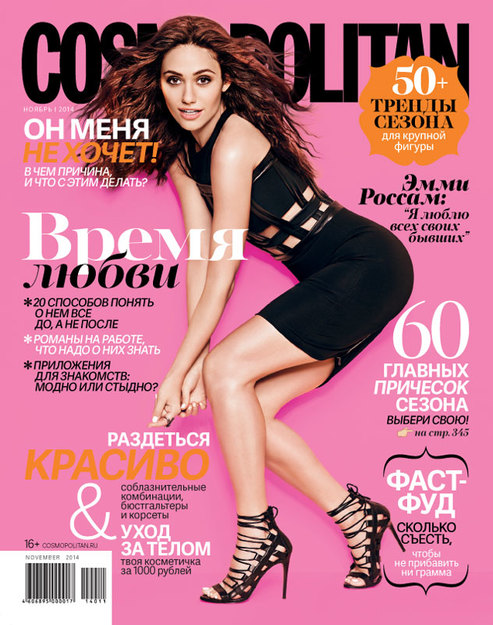 The November issue of Cosmopolitan is the magazine's most romantic and passionate this year. Inside, readers will learn everything about sex and relationships – both real and virtual. Cosmo reveals all the secrets of a happy personal life, examines the fate of relationships in the workplace, explains how to revive the flame of passion in your relationship and how to dress seductively and take care of your body. This issue also includes articles with new ideas for adding variety to relationships.
Also in this issue:
Cover girl: opera singer, actress and Phantom of the Opera star Emmy Rossum talks about her latest love, sex, marriage and chocolate syrup;
Fashion: how to refresh your wardrobe without spending a dime;
Beauty: the colors of fall – elegant eye makeup;
Undress beautifully: seductive combinations for passionate preludes;
Only you: the age of innocence – why young ladies retain their virginity;
Interview: singer Shakira shares the secrets of her beauty and sexiness and explains why she has no issues with love;
Sex, Russian-style: interesting facts and figures;
Plus size: Katya Zharkova proves that voluptuous figures are in fashion;
In his head: how to identify a skilled lover from his online texts;
The Big Bang Theory: how to get into the Nu Virgos – from an ordinary girl into a sex bomb;
Love and sex: how to spice up your sex life and turn your man into a first-rate lover;
The most fashionable and interesting "can't miss" exhibitions, concerts and movie premieres in November.
This year Cosmopolitan marks its 20th anniversary in Russia and marks the occasion with festivals in four Russian cities. Read about the highlights of the Moscow festival in the November issue.
The November issue went on sale October 21.