Popular Mechanics in August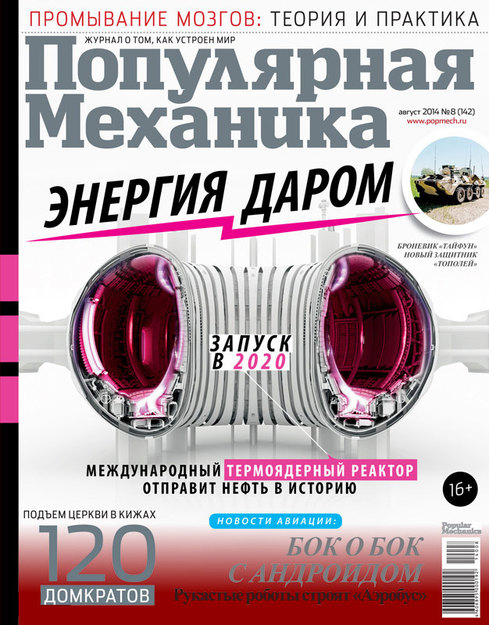 Without exaggeration, the International Experimental Thermonuclear Reactor (ITER) is the most significant research project of modern times because it seeks to produce controllable thermonuclear fusion that will provide an inexhaustible source of cheap and clean energy. Read more about the project in the latest issue of Popular Mechanics.
To date, only U.S. pilots can match the complex aerial acrobatics that Russian fliers perform, with Chinese aviators a close third and rapidly closing the gap. In the article "Is it Easy to Become a Knight?" in the Technology section, the commander of the Russian Knights aerobatic demonstration team talks about his profession.
In the article "Genetic Modernization" in the Science section, readers will learn that ideas of genetic engineering with living organisms are closer to reality than previously imagined. The article "Battle of minds and iron" in the Weapons section reveals that World War I spurred as many, if not more military and technological innovations than World War II. In the Workshop section, editors discuss the butterfly knife, better known as the balisong, a knife with a long history that has spawned an entire subculture of people who can skillfully "flip" or "fan" its two-handled blades.
In this issue:
Heavenly innovation;
Dutch pearls;
Correcting errors;
Listen here;
The school of life and the strength of materials;
Brainwashing;
Trot, canter and swim;
Keeper of the Yars;
35 dolphin-power;
The cane fields of John Powers.
The August issue went on sale July 15.
Download the iPad version from the App Store and the PDF version from Zinio.