Cosmopolitan in August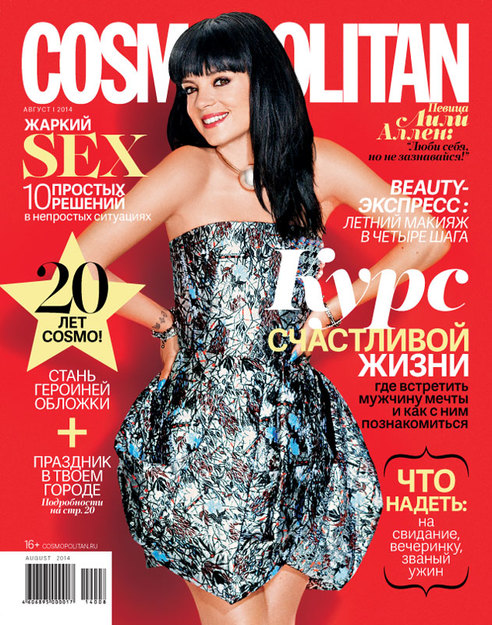 How to lead a happy life is the main theme of the August issue of Cosmopolitan. This month, Cosmo teaches readers how to seize life's opportunities and enjoy each day to the fullest despite the difficulties one may encounter and also offers detailed tips on where to meet the man of your dreams, how to get acquainted with him and what to talk about on your first date.
Also in this issue:
Cover girl: Open, cheerful, independent and talented singer Lily Allen talks about how she wanted to become famous, her take on idols and the downside of fame;
Beauty express: Four makeup steps to a striking summer look and great finds in new cosmetic products for August;
Interview with knockout-handsome Joseph Gordon-Levitt about his role in the new film "Sin City 2," and how difficult it is to meet a girl with sincere intentions;
What to wear: The secret to creating simple and ingenious attire for any occasion, from a business lunch to a red carpet event;
Star of the party: Dress code instructions, commentary, tips and rules from male experts;
Career and money: To what lengths did actress Maria Shumakova go for her role in the film "The Sweet Life"?
Love and sex outdoors: 10 simple solutions to difficult situations and how to enjoy unending pleasure;
Comedian Natalia Medvedeva on her new film, female friendships and family life;
Only you: confessions from beauty contest winners about their dreams, the harsh reality and the challenges they faced on the way to the title;
Competition "We turned 20 and you get 20,000 prizes!" continues: How to become the cover girl on the magazine's anniversary issue.
Cosmopolitan begins celebrating its anniversary year with events in four Russian cities in July and invites readers to join the fun. Admission is easy: just show the special bracelet found in copies of the August issue to join the festivities in Novosibirsk, Yekaterinburg and St. Petersburg. The same treat awaits Moscow readers in the September issue. Guests can also purchase the special bracelets at the festival's entrance.
The event features six themed zones: Beauty, Fashion, You and Him, Career and Psychology, Leisure and Travel, Energy and Health. Stylists, fitness experts, image makers, makeup artists, psychologists and many other professionals will present their best programs and share their trade secrets. More details are available at the website 20years.cosmo.ru.