Beauty Voyage from Grazia Magazine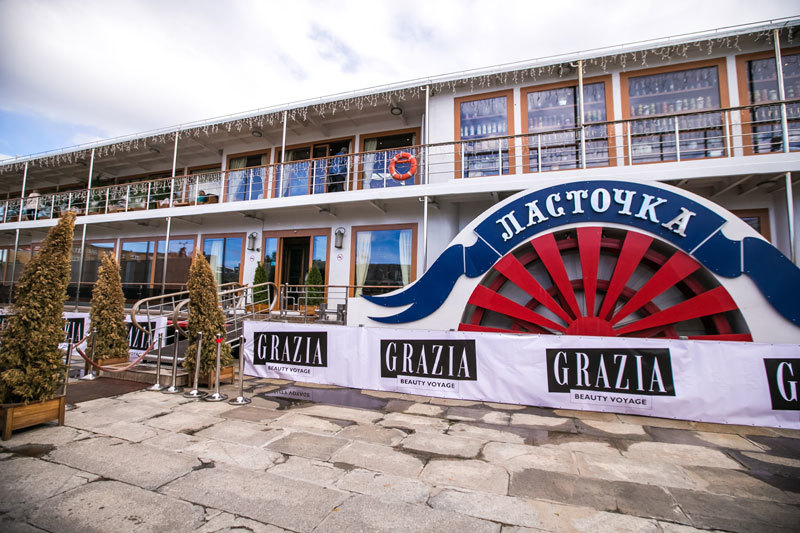 Grazia magazine invited friends on a Beauty Voyage held aboard the Lastochka (Swallow) restaurant ship on June 25. The ship was transformed into a beauty parlor for the event, showcasing the latest products and procedures from 25 leading cosmetic brands, salons and clinics.
A number of celebrities attended the event, including Ekaterina Strizhenova, Lyaisan Utyasheva, Yana Laputina, Alisa Tolkacheva, Irina Chaikovskaya, Snezhina Kulova, Yulia Dalakyan, Kira Plastinina, Darya Veledeyeva, Ekaterina Dobryakova, Ekaterina Drobysh, Elena Usanova, Olga Sutulova, Ksenia Chilingarova, the Fabrika group, Karina Oshroyeva, Aya of the group Gorod 312, Darya Gauzer, Ekaterina Odintsova and many others.
Guests gladly tried out facial and body treatments and learned about the latest developments in the beauty industry. On the first floor, guests could have their hair diagnosed, undergo a rejuvenating procedure in an oxygen cabinet, get face and hand massages and receive consultations from clinic specialists. This area featured booths from Dior, Kenzo, Clinique, Nioxin, Helena Rubinstein, Biotherm, Pola, Kraftway, Aveda, Legend NY and many others. On the second floor, guests could visit beauty stations by Guerlain, Clarins, Lancome, Vremya krasoty (Time for Beauty) and Beauty Bar (Slim Bar, Wax&Go and the Fen Dry Bar).
Grazia editor-in-chief Alena Peneva closed the event by slicing a custom-made cake by renowned pastry chef Renat Agzamov, and every guest went home carrying a coveted Grazia Beauty Box containing gifts from the brands represented at the celebration.