Harper's Bazaar in February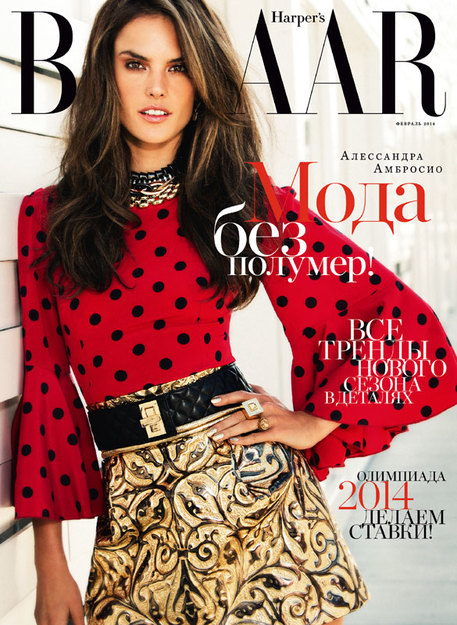 The February issue of Harper's Bazaar takes the theme of pulling out the stops on fashion. Readers will find a detailed examination of the new season's trends. The cover features model Alessandra Ambrosio, and on the inside pages she shows off images from new collections inspired by the 1980s.
Also in this issue:
God and other roles: Leonid Yarmolnik talks about producing films and his role in the eagerly anticipated movie "Hard to Be a God";
Trends of the season: all of the latest trends — suprematism, Fauvism, pop art, denim, the ethnic look and more;
The world of Chanel: Miroslava Duma in Chanel Numéros Privés exhibition interiors;
A higher standard: Irina Rodnina and Vladislav Tretyak on the spirit of sports, victories and the Olympic Games in Sochi;
Art 'n' facts: a collection of contemporary art in the Maramotti Museum of Reggio Emilia, Italy;
Jungle book: Raf Simon's revolutionary collection for Dior;
For the big screen: dramatics and bright accents in haute couture collections;
Be yourself: Kate Winslet's beauty secrets;
My heart is in the mountains: the Santoni family winter residence in St. Moritz;
Crème de la crème: the Carrera y Carrera founder talks about himself, his new collection and his inspirations;
Discovery: the best destinations and suggestions for observing Valentine's Day;
Beauty: how to give the ideal smile without turning it into a grimace, a new miracle hair dye and how to fight cellulite without resorting to devices;
Flash: the hottest parties according to Harper's Bazaar;
Charity Bazaar: the "Eleanor" medallion from Axenoff Jewellery, the Areca dress from the Herve Leger limited collection, antioxidant powder, Mega NFC at the Kraftway clinic and Nikita Medvedev's "Fairy Tale of the Bear King" in Five Kids magazine.
The February issue of Harper's Bazaar went on sale January 21. An iPad version is also available.
Harper's Bazaar — fashion without rules.