Harper's Bazaar in January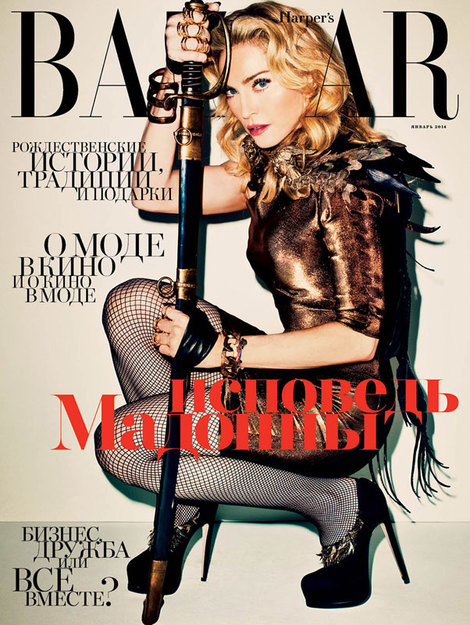 The singer Madonna appears on the cover of the January issue of Harper's Bazaar. Readers will find:
Things in pastel hues to bait spring's arrival, diamond jewelry as a way to avoid depression, and the most fashionable young women as examples worth following. Also, Christmas stories, traditions and gifts.
Undress and conquer: Confessions by Madonna, who has maintained her status as the Queen of Pop for 30 years.
Best dressed: designers' most vivid and memorable images, it girls, actresses, singers, stylists, fashion editors and bloggers of 2013.
And the Oscar goes to … Harper's Bazaar gave out its favorite fashion film awards in the same categories as the Film Academy.
Family holiday: Three famous families tell how they celebrate Christmas and New Year's Day.
The habit of winning: actress Tatiana Arntgolts on the winning spirit and the thrill of acting.
House secrets: Harper's Bazaar looked into the Yanina Fashion House archives as it celebrates its 20th anniversary and ferreted out all the secrets of designer Yulia Yanina.
Where the heart is: The co-creators of the "More is Love" online store explain that friendship is not a hindrance in business.
Saddling success: In a candid interview, Ralph Lauren talks about how he succeeded and why he changed his surname.
Beauty: the Michael Kors make-up line and its first men's fragrance, Valentino, the most fashionable shades of lipstick and nail polish as well as products for enhancing the effects of aesthetic procedures.
Discovery: the Bahamas, Seychelles and other exotic destinations.
Flash: the hottest parties according to Harper's Bazaar.
The January issue went on sale December 17 and the App Store began selling the iPad version on December 20.
Harper's Bazaar — fashion without rules!