Robb Report Russia at Zavidovo Golf Club Opening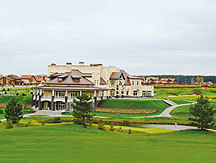 Robb Report Russia magazine served as general media partner to the international opening of the Zavidovo PGA National Russia golf club held in the Tver region on June 23. The opening brought together more than 200 people, including club members and partners, international golf authorities, members of sister clubs and golf industry representatives.
A golf tournament was held as part of the opening, and first-time guests were given a free golf lesson. Robb Report Russia presented special gifts to the tournament winners.
The Zavidovo golf course opened last September. It was created by European Golf Design and is the only course in Russia licensed by the Professional Golfers' Association. The PGA is the world's oldest association of professional golfers and was first founded by golfers from Great Britain and Ireland.