Popular Mechanics in March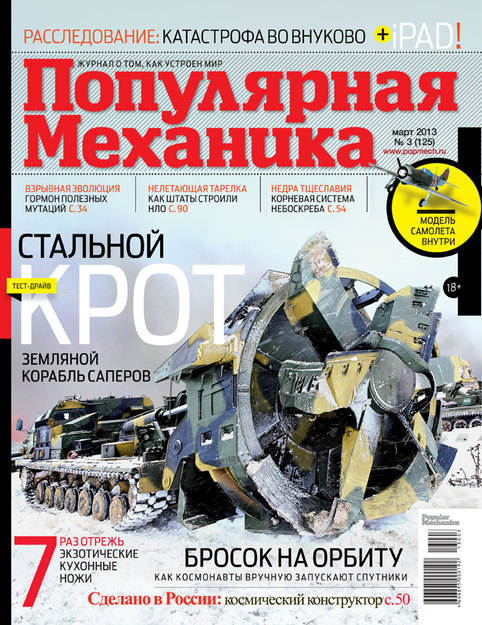 At the peak of the January snowfall, help came to the civilian population in a familiar form: a military vehicle very similar to a tank, but useful in peace time as well. The March issue of Popular Mechanics features an article titled "Fire, Earth and Snow" about heavy engineering equipment.
In the "Science" section, find an article about one of the most important hormones in the history of all living things — the "evolution hormone." In the "Technology" section, read "Space for Amateurs," which explains how the launching of nanosatellites has become an affordable pleasure and how university students and even do-it-yourself hobbyists are joining the ranks of space explorers.
In "Weapons," readers will learn why the flying saucer designed by the Avro company never had a chance to fly.
Also in this issue:
Muons give the go-ahead;
At the speed of wind;
Why skyscrapers don't fall;
Killer No. 1;
Floating saucers;
Seven cuts … and nip, drill and screw;
Useful energy;
Chamberlain and the stolen mellotron;
Men's say;
An interview with iRobot company founder Colin Angle;
The illustration technique of Balint Bolygo;
A paper airplane model you can assemble.