Start Your Day with Grazia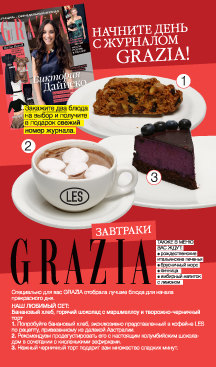 Grazia magazines invites readers to have breakfast at Les coffee shop. Throughout December, customers can enjoy specially selected dishes to start their day off right: banana bread, hot chocolate with marshmallows, bilberry cheese cake, Italian Christmas cookies, lingonberry fruit drink, scrambled with ginger drink and lemon.
Every customer ordering two dishes or more from the special menu will receive a complimentary copy of Grazia magazine.