Robb Report Russia in December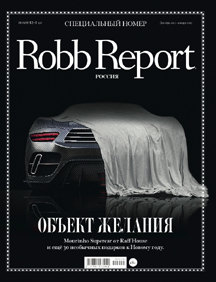 According to tradition, the New Year's double issue of Robb Report Russia is devoted to gifts. In selecting gifts for this issue, editors chose items that are beautiful and useful, relatively affordable and incredibly expensive, impeccably tasteful and somewhat extravagant.
This year's list of 30 holiday gifts includes unique watches and jewelry, exclusive furniture, luxurious linens, porcelain ware, high-end perfumes, cigars and alcoholic beverages, Christmas tree ornaments, a supercar, a yachting timepiece, a bar trailer with whiskey and even a swanky chicken coop and tattooed furniture. Robb Report editors are confident that readers will find something from this cornucopia of gift items with which they can surprise their friends and loved ones for the holiday.
In the regular column "First Person" Robb Report Russia experts test the French Falcon 7X, the first business jet with digital controls, find the truth through the creative interaction of artists and winegrowers and share information on the world premiere for the 2012 Monaco Yacht Show.