Domashny Ochag: Let There Be a Celebration!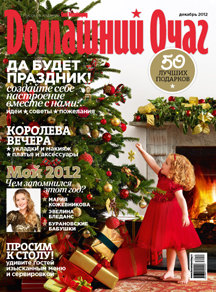 Famous people shared the things that made 2012 memorable for them, especially for the December issue of Domashny Ochag. Invitations went out to those whose year was unusually full of events and achievements — Evelina Blyodans (who became a mother), Maria Kozhevnikova (entered politics), the Buranovskiye Babushki (represented Russia at the Eurovision contest), as well as Alex Dubas, Maxim Vitorgan and others.
A separate section of the issue is devoted to New Year's: decorating the apartment, creating a festive menu and choosing gifts. Readers will also find holiday hair styles, makeup, outfits and accessories.
Domashny Ochag is conducting an advertising campaign in support of the December issue, with spots in the press, on the TNT, Kukhnia TV and Domashny television channels and on the Dacha and Romantika radio stations.
The December issue will be presented at the Sixth Domashny Ochag Family Festival to be held at the Central House of Artists on Dec. 7-9. The issue went on sale Nov. 13.