Harper's Bazaar in Krasnoyarsk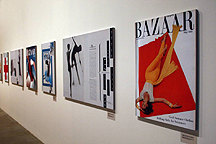 Harper's Bazaar magazine presents the exhibition "Brodovitch: From Diaghilev to Harper's Bazaar" devoted to Alexey Brodovitch, the outstanding art director who created a revolution in graphic design. The exhibition will be presented at the Krasnoyarsk Museum Center from Nov. 3 to Dec. 2 as part of the sixth Krasnoyarsk Book Fair under the patronage of the Mikhail Prokhorov Foundation. Irina Meglinskaya serves as curator of the exhibition.
The exhibition will feature Brodovitch's graphic experiments on the pages of the U.S. edition of Harper's Bazaar, famous covers that he created during the 24 years that he worked as art director of the legendary magazine and photographic portraits of Brodovitch shot by Richard Avendon, Henri Cartier-Bresson, Arnold Newman and many others.
The exhibition will also include a showing of the digital version of the unique book "Ballet" that was made during a tour of the Russian Ballet of Monte Carlo in New York and at performances of American ballet companies in the mid-1930s.