Harper's Bazaar in November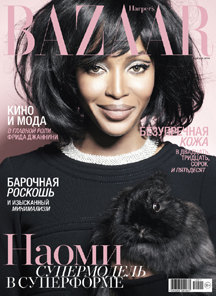 Supermodel Naomi Campbell graces the cover of the November issue of Harper's Bazaar wearing a Chanel dress and Jacob & Co. necklace.
Read in November:
Naomi. Super! Daring. Beautiful. Brave. The supermodel talks about herself, the world of fashion and philanthropy.
MMM shareholders. The most anticipated team-up of the season: a joint collection by Doma Maison Martin Margiela and H&M.
Lights. Camera. Action! Gucci creative director Frida Giannini and costume artist Colleen Atwood on the Gucci award, fashion, film and women's role in each.
Beauty. Flawless skin at 20, 30, 40 and 50.
In the Discovery column: ecotourism in Mexico, hot spots in Europe and hotels in Los Angeles.
Flash! The hottest parties of the season according to Harper's Bazaar: the opening of the new Kisa Bar, Ksenia Sukhinova's birthday and other high society events.
Harper's Bazaar — fashion without rules!