Collectors Issue of Robb Report Russia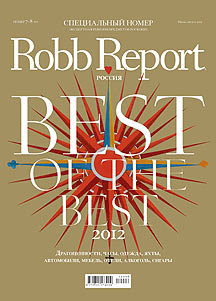 This July, readers will find a collector's issue of Robb Report Russia: "The Best of the Best." Per tradition, the magazine's experts and writers conduct an annual review of luxury goods.
Gracing the pages are images of haute joaillerie created by the most skillful craftsman from leading jewelry brands of 2012, the latest watches and recent releases from automobile manufacturers, the best sailboats and yachts, the most interesting interior decor objects and items for the ideal men's wardrobe.
Also in this issue: the best alcoholic drinks of the past year and the best cigars from Nicaragua, Honduras and the Dominican Republic.
Unlike previous editions of "The Best of the Best," Robb Report included the "First Person" column this year. Readers will find a test drives of three Audi S-series cars and a report on the Louis Vuitton rally in which only the owners of valuable classic cars can compete.