Mood Videos from Harper's Bazaar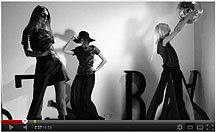 Harper's Bazaar magazine together with Alexei Kiselev, Mikhail Finogenov and director Anton Sokolov of Kisa Productions shot a mood video that will be shown at the official opening of Bazaar Bar on April 19.
The most charismatic and trendy Muscovites took part in the three days of shooting at Forma studio — Vika Gazinskaya, Miroslava Duma, Kira Plastinina, Yana Lebedeva, Katya Dobryakova, Anastasia Romantsova, Alyona Akhmadullina, Olga and Charles Thompson, Ravshan Kurkov, Alexei Garber, Yulia Kalmanovich, Hovhannes Poghosyan, Alexander Dulshchikov and Igor Lantsman. The central character was Fawaz Gruosi, head of the Grisogono jewelry house and a well-known jet-setter whose parties in Cannes and Sardinia are frequented by Hollywood stars.