Harper's Bazaar Spring Ad Campaign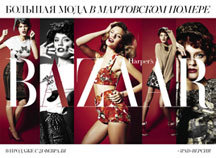 Harper's Bazaar magazine celebrates its 145th anniversary in 2012. As part of this milestone, the Russian edition of Harper's Bazaar fashion magazine is planning an extensive advertising campaign to promote the March issue that brings together all of the spring trends from the fashion designers of the world.
The ad campaign runs from Feb. 21 to March 4 with the slogan "Great fashion in the March issue." Ads will appear on more than 100 billboards and other outdoor advertising spaces on the central streets of Moscow, leading radio stations will broadcast 15-second commercials, fashion advertising modules will appear in monthly and weekly publications, and banners and announcements will be placed on information and lifestyle websites. Priority displays and special product positioning will also be employed in all premium retail chains as well as in airports and BP gas stations.