Bazaar Bar: New Trendy Spot on Cocktail Map of Moscow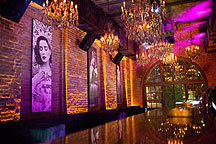 Bazaar Bar, a joint project between Harper's Bazaar and famous restaurateur Andrei Dellosa, threw open its doors to the magazine's business partners on Feb. 9.
Special guests Fawaz Gruosi, Corinee Jacques, Aysel Guseinov, Irina Chaikovskaya and many others attended the trendy gastronomic event at Ulitsa 1905 Goda, Bldg. 2, in Moscow's historic downtown. They spent the evening tasting a special series of Bazaar Bar cocktails including an original "ladies'" cocktail made from juicy lychee fruits, a "men's" cocktail made with pieces of kiwi and apples, and a refreshing "fitness" cocktail based on fresh wild strawberries.
Harper's Bazaar treated the evening's guests to the screening of a trailer of the Harper's Bazaar Bar movie featuring Miroslava Duma, Hovhannes Pogosyan, Ravshan Kurkov, Alena Akhmadulina and Kira Plastinina. The film will premiere at the official opening of the bar in March 2012.