Robb Report in February: Hunting and Private Banking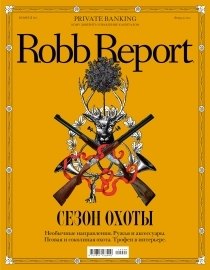 The issue opens with material on hound and fox hunting. Since the classic form of hunting is impossible without dogs, the first article explains how the famous canine breeds first appeared and why huntsmen need them. The second article is devoted to falconry — an exotic combination of austerity and luxury, simplicity and extraordinary complexity. And finally, for those who observe the rules of etiquette and the laws of elegance even in forests and swamps, Robb Report offers a selection of the most beautiful guns and accessories and shows how to use the game you bag. 
Russia's post-crisis private banking market is the second major focus of this issue. The magazine's experts determined whether the market had grown and explain the family office — who needs one and why. In addition, the contributing authors examine the question of inheritance and the situations that can arise when a person is given a small- or midsized business by a relative or close friend.