Domashny Ochag at New Year's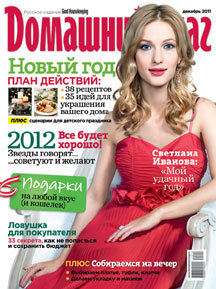 The December issue of Domashny Ochag magazine is devoted to New Year's Day and offers a wealth of useful tips for preparing for one of the most important holidays.
In this issue:
Svetlana Ivanova: "A fairy tale all year long";
2012 will be a great year! Stars share their thoughts, advice and best wishes;
Entertaining at home: holiday recipes;
Pleasant necessities in the run-up to New Year's;
Celebrity mom Yekaterina Porubel — our own Serafina Prekrasnaya;
Hugh Jackman: the famous actor talks about his beloved wife and children;
Nine luxurious hairdos;
Beauty after the holidays: important advice;
Choosing a dress, shoes and clutch bag;
Surviving the December holiday marathon;
Home decorating tips;
Decorating the tree in different styles;
Gifts for any budget or taste.
A New Year's surprise awaits readers: The magazine contains a coupon good for 50 percent off the price of admission to the Domashny Ochag Fifth Anniversary Festival.
The December issue of Domashny Ochag magazine was released for sale on Nov. 15.