Robb Report Russia in November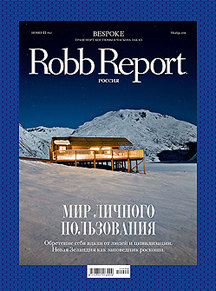 The November issue of Robb Report Russia focuses on travel and bespoke. The search for pristine terrain led the Robb Report chief editor to New Zealand, the corner of the planet least trammeled by throngs of tourists, and took the magazine's travel editor to the Seychelles, where nature and civilization help each other without competing.
Believing that winter is no reason to forego your favorite sports, the magazine's editors found the best locales for playing golf and polo in the snow. A review of the best spas in the world's airports rounds out the section, along with a survey of the best clinics in Switzerland, Germany, the United States and Israel — clinics that make it simple to combine treatment and vacation, enabling visitors to enjoy a change of scenery, travel and return home full of energy.
In the story on bespoke, the magazine reveals what custom-made items can be ordered besides suits. The same principle can be applied to ordering custom transportation — from luxury trucks to passenger cars and motorcycles. This section also examines custom manufacturers of Swiss watches and the secrets of U.S. publishers that design private libraries.
In the standard "First Person" section, Robb Report Russia authors and experts share their impressions of a gastronomic tour of Burgundy and rate iPad applications for wine, gold and telling time. Also, the magazine explains how you can purchase a private loge in the world's best opera houses and what new surprises the creators of the Audi A5 and S5 have in store for 2012.