Domashny Ochag Presents ABCs of Style and Design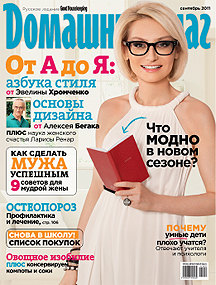 The September issue of Domashny Ochag magazine has been released.
In this issue readers will find:
The ABCs of style, from A to Z by Eveline Khromchenko: what's in fashion this season, what looks good on you and which colors are in;
Design basics from Alexei Begaka, host of the New Home program on the Rossia channel;
The Science of Women's Happiness by Larissa Renard;
Nine tips from a wise wife: how to make your husband successful and the constructive way to sort out your relationship;
The most common mistakes women make at work and how to avoid them;
A shopping list for school;
Loads of design ideas for children's rooms;
Teachers and psychologists explain why smart kids sometimes make bad students;
How to prevent and cure osteoporosis;
Recipes using vegetables, plus everything on canning stewed fruits and juices;
The premiere of the My Talent column sharing the secrets of successful people.
Readers will find all of this and much more in the September issue of Domashny Ochag. On sale beginning Aug. 15.