Domashny Ochag in Chelyabinsk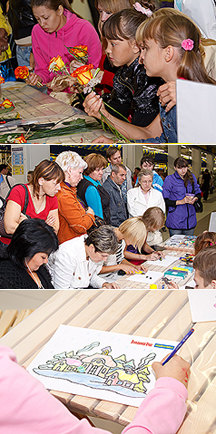 Domashny Ochag magazine and the Castorama chain of home remodeling hypermarkets held the second Comfort festival of home remodeling and creative design. The event took place in Chelyabinsk on Aug. 6-7.
The festival space was divided into three zones. A variety of contests from Castorama and workshops on home remodeling were held on the stage. At the Handmade Alley, Domashny Ochag Institute presented five sections, each devoted to the popular hobbies of scrapbooking, decoupage, clay modeling, floral arranging and working with felt. Interesting workshops for all visiters were held from 10 a.m. to 8 p.m. both days of the festival. The third area, the Kids' Zone held handicrafts workshops and active games for all children in attendance. Parents could leave their little ones in the Kids' Zone and take part in the various contests and workshops.
Like all Domashny Ochag events, a creative and friendly atmosphere reigned at the festival. Approximately 20,000 people attended.