Popular Mechanics on the Discovery Channel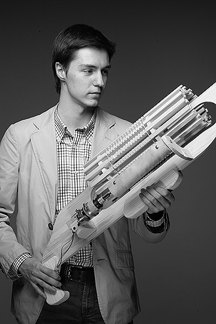 The "Technology with Sergei Apresov" program premieres June 3 on the Discovery Channel. For the first time in the channel's history, the program host will be Russian: Popular Mechanics editor-in-chief Sergei Apresov.
In explaining their choice for program host, a Discovery Channel representative said, "Sergei has an excellent understanding of technology and, as a talented storyteller, he provides brilliant commentary to the material filmed in various countries around the world."
The Popular Mechanics editor-in-chief will tell viewers about the most unusual inventions and explain how these amazing things work. For example, in the first show, viewers will learn about robo-rats and ride on an airboard in New Zealand.
Sergei Apresov described the "Technology" program: "When a new fantasy film is released, movie theaters have no shortage of viewers. Our program resembles the coolest fantasy films that have incredible stories and the most advanced special effects. But unlike a movie, this is reality and there are no computer graphics."
A total of 26 episodes have been filmed. They will run from June 3 to Aug. 19 each Friday at 8 p.m. on the Discovery Channel.