Grazia Launches Competition for Young Designers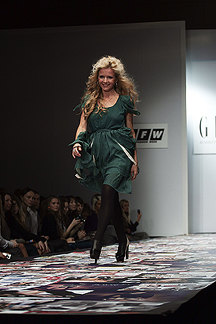 Grazia magazine announces a competition for young designers. For the third time, all interested young designers will have the opportunity to participate in a competition of creativity by presenting their collections before a jury of fashion industry professionals.
The editorial board requires that contestants submit drawings for two collections: evening wear and cruise wear. Sketches must be submitted to konkursgrazia@imedia.ru between May 24 and Aug. 23, 2011.
Winners will present their collections at the Mercedes-Benz Fashion Week Russia event to be held in Moscow in October 2011. A number of models will participate in the event including Sati Kazanova, Irina Chashchina, Karina Oshroyeva, Polina Gagarina and others.
This year, contest participants will be able to enjoy lectures and workshops by designers and beauty specialists. Contest partner Philips will provide professional stylists to explain how to make the ideal hairdo without damaging your hair. In addition, Persona Labs will use hair care devices from Philips to help participants — whose designs include not only clothing, but hairdos as well — to bring their most daring ideas to life.
Stay tuned for updates on the young designers contest at First Popular Radio (102.5 FM) and on the World Fashion Chanel.